THE FALLES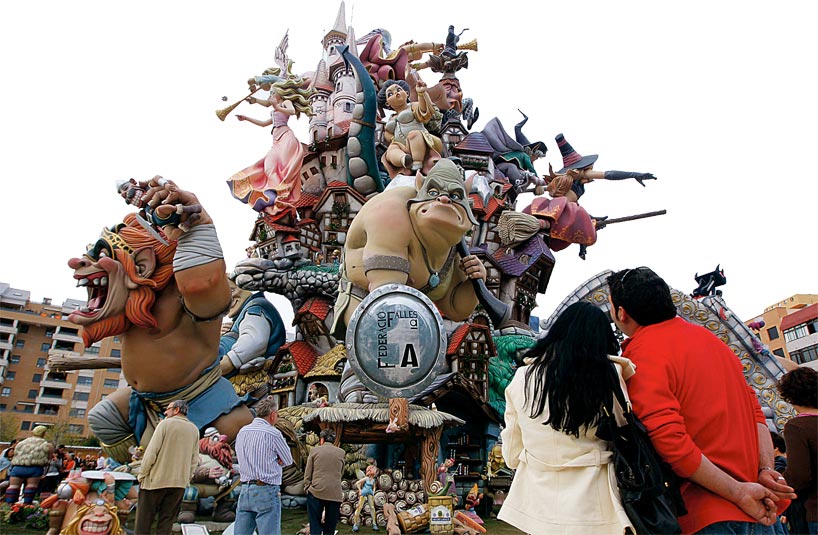 The Falles is a traditional celebration held in commemoration of Saint Joseph in the city of València, Spain. The term Falles refers to both the celebration and the monument burnt during the celebration. This celebration comes from the Latin custom of lighting fires to welcome spring. In València, this ancient tradition led to the burning of accumulated waste, particularly wood, at the end of winter on the feast day of Saint Joseph. People began to burn figurines depicting persons and events of the past year.
T
he burning symbolised liberation from living in servitude to the memory of these events or else represented humorous and often critical commentary on them. The festival thus evolved a more satirical and ironic character, and the wooden castoffs gradually came to be assembled into progressively more elaborate 'monuments' that were designed and painted in advance.
The Falles festival was added to UNESCO's intangible cultural heritage of humanity list on 30 November 2016.
EXPLANATION OF THE "WOMEN IN ART" "FALLA"
From March 8 (International Women's Day) to the 21st of March (European Day of Artistic Creativity) the European Project "Women in Art. Breaking the invisibility loop" invites us to perform an action through which we can give visibility to women artists in our school, which is why the stages of kindergarten and primary school have helped to build the "Falla".
It has represented, based on the work of Louise Nevelson, the low percentage, the tiny representation of women "falla" artists in Valencia.
For this reason, out of all the boxes full of everyday objects made with cardboard we only painted a small percentage of violet.
FALLA WOMEN ARTISTS IN VALENCIA
Out of the 200 "Falla" artists registered in Valencia, only 14 are women and just half of them are active. They are a group of women in a world of men.
Most are have a Diploma in Fine Arts or have extensive experience in this so sacrificed world. Although traditionally they have worked and much in the workshops where the "Falla" monuments were built it was hardly spoken of them.
Laurels are taken by men. These artists affirm that at the moment it is still difficult to move in a sector traditionally of men, not so much because of the workmates, who already have it very assumed and they collaborate with many of them as sculptors, but because often it seems that they have to demonstrate more to the commissions, that their work is good and that they can hire them calmly.
LOUISE BERLIAWSKY NEVELSON
Louise Berliawsky Nevelson was an American painter and sculptor who was born in Ukraine. She is known for the surname of her ex-husband, though at the beginning of the 1930s she separated, since he did not agree with the fact that he received classes of art at the Art Students League in New York.
It is known for its abstract pieces made with wooden or metal boxes, often painted monochromatic.